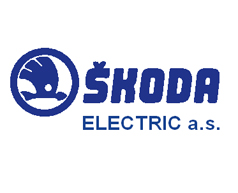 Skoda Electric
SKODA ELECTRIC is one of the world's leading manufacturers of traction drives and traction motors for locomotives, EMU's, metro coaches, trolleybuses, tramcars and special mining trucks. The company is continuing in the long tradition of electrotechnical manufacturing in Pilsen factory that started in 1901. SKODA ELECTRIC was founded in 2003 with aim of concentrating the technical and production know-how of SKODA GROUP in the field of electric drives and electrical equipment.
SKODA ELECTRIC is designer and manufacturer of propulsion equipment for locomotives, EMU's and metro cars. Propulsion equipment is capable to operate for 1500/3000 VDC ve 15kV-16 2/3 Hz ve 25kV-50Hz supply systems. The Company also design and manufacture auxliary supply systems and battery charging systems. SKODA ELECTRIC design and manufacture propulsion equipment and auxilary systems for LRV's, tramcars and trolleybuses which are capable to operate for 1500/750/600 VDC. Traction inverters are based on high voltage IGBT technology up to 6,4 MW.

In addition, the Company design and manufacture TCMS(Train Control and Diagnostic System) for all rail system vehicles.

SKODA ELECTRIC design and manufacture AC traction and auxilary motors in different power and synchronous motors with permanent magnet for tramcars. Since 1961 when the manufacture of electric motors had started, more than 80.000 traction motors and about 45.000 auxilary and industrial motors have been manufactured and delivered to customers.

SKODA ELECTRIC is not only supplier of components such as traction motors and traction drives but also leader of the system project as system integrator.

SKODA ELECTRIC has ISO 9001, ISO 14001, ISO 18001, IRIS, DIN EN 15085-2 and DB Qualified supplier certificates.